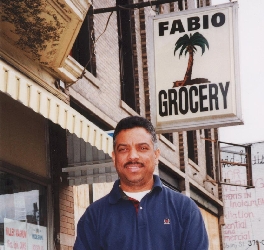 "Eusebio Morel used a loan from the Capital District Community Loan Fund to open Fabio's Grocery in Schenectady, New York. The store not only supports Fabio's family, but is a source of neighborhood pride and an important resource for the growing Latino community
Small business development is at the core of independent economic growth for individuals and communities. Business development is vital to bolstering the economy of low-wealth communities and has a long-lasting impact on wealth accumulation. CDFIs, the primary type of Community Investment Institutions (CIIs), financed more than 9, 074 businesses in 2005, as reported by the CDFI Data Project.*
Small and medium-sized businesses are businesses that are larger than microenterprises. They have more than 5 employees and often require loans or equity investments greater than $25,000. Businesses financed by CIIs have ranged from an elderly care center in Kentucky, to a recycled timber factory in Oregon, and a computer repair facility in Massachusetts. In addition to financing promising and profitable businesses, CIIs provide one-on-one technical training to entrepreneurs to build their business savvy.
Businesses development produces a ripple effect in communities because new businesses provide new jobs. In 2005, more than 39, 151 jobs* were created and maintained as the result of business financing from CDFIs.* CIIs privilege businesses that will provide livable-wage jobs to community members, provide much needed service to underserved areas, and exert a positive environmental impact.
* This statistic includes jobs created as a result of microenterprise, but is significantly underreported. It does not capture all self-employment activities of microentrepreneurs, job data from the 284 credit unions for which the CDFI Data Project only has call report data, and those CDFIs that do not track this information.