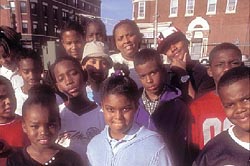 Urban Edge is a nonprofit that has been working to make the Jackson Square neighborhood of Boston an accessible mixed-use development with community facilities that will attract people of all ages. Boston Community Capital made its first loan to Urban Edge in 1986 and has since supported projects ranging from affordable housing to a pilot high school for at-risk students to community parks.
Education, healthcare, and childcare are among the most necessary social services inadequately supplied to low-income communities in our nation today. Community Investment Institutions (CIIs) are helping to alleviate this crisis by providing communities with the resources they need to serve themselves. CIIs provide loans, technical assistance, and financial training to businesses and community organizations to boost their capacity to serve their communities.
As displayed by the data below, CIIs have facilitated the development of independent strategies for communities to use in meeting their needs for childcare, healthcare, and education. The 470 community service organizations that received financing in 2005 have far-reaching effects on their communities, as they provide a multitude of services to people in need, with 245,823 healthcare slots being created. Technical training and business assistance provided to more than 108,000 individuals and 7,800 organizations in 2004 have allowed previously disenfranchised people to enter into successful entrepreneurships and self-reliant careers.
Services Financed or Assisted by CDFIs(FY 2004)*

Community Service Organizations
(financed)

470

Technical and Business Assistance

108,000 individuals
7,800 organizations

New and Existing Childcare Slots

14,446

New and Existing Educational Slots

16,602

*Data as reported by 517 CDFIs for the FY 2005. Taken from CDFI Data Project study "CDFIs: Providing Capital, Building Communities, Creating Impact."