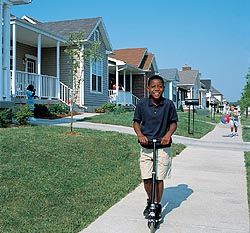 Before 1997, the neighborhood around the Cotter/Lang public housing project in Louisville, KY was aging, dirty, and riddled with crime. Louisville Community Development Bank helped change this by turning it into a vital, inviting community of mixed-income families, all without displacing current residents.
Affordable housing is necessary for a family's stability and success. Owning assets, such as equity in a home, can help a family finance their child's education, start a new business, or absorb a financial crisis. Housing is also the sector that receives the most financing from community investments. Creating and sustaining affordable homes is the top priority for many Community Investment Institutions (CIIs) and thus accounts for almost 60% of CIIs' total lending, according to the CDFI Data Project Study. Ensuring that low-income people have affordable and healthy homes is done through a variety of lending strategies.
CIIs utilize different strategies to direct capital into the housing market. Some lend to housing developers to create rental housing, service-enriched housing, transitional housing, and residential housing. Some provide loans directly to low-wealth individuals to finance mortgages and become homeowners.