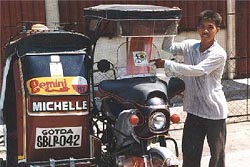 "Sakbayon" is the Tagalog word for "Community," Opportunity International's loan program for nearly 2,000 tricycle taxi drivers in the Philippines. The borrowers' net average of $6 a day provides enough money to support their families, maintain their vehicles, and repay their loans. While they are too poor to obtain credit from banks, basic business skill training and peer support keeps the loan repayment for the drivers at 99 percent.
The impact of community investing stretches far beyond the U.S. to developing nations where self-employed people comprise more than 50 percent of the labor force. Microenterprise loans are most often the vehicle for community investing abroad because they provide this large self-employed population with the skills, credit, and capital to turn their struggling business into a successful microenterprise. As of 2005, international loan funds held $165 million in assets, as reported by the Social Investment Forum.
Comprehensive research on the impact of community investing internationally is not possible due to the size and scope of such a project. However, most Community Investment Institutions (CIIs) with lending activities abroad can provide investors with a detailed report on the community development projects and businesses they have financed. These projects range from lending to a beekeeping business in South Africa, a restaurant in El Salvador, or a farming cooperative in Haiti.
Microenterprise lending has had a sustained impact on low-income people abroad and demonstrated success as a community investing product for investors in the U.S. In 1997, its achievements sparked the launching of a nine-year campaign by 137 nations to provide 100 million of the world's poorest families with microcredit products. In 2005, the Microcredit Summit Campaign reported that microfinance institutions abroad had reached 92,270,289 clients, 66,614,871 of whom were among the poorest when they took their first loan.1
1Microcredit Summit Campaign http://www.microcreditsummit.org/pubs/reports/socr/2005.htm