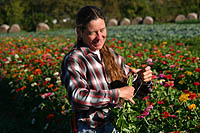 Photo by Ron Doetch
Michael Fields Agricultural Institute is a nonprofit education and research organization located in East Troy, Wisconsin committed to promoting ecologically sustainable and economically viable food and farming systems. Financial support from the Rudolf Steiner Foundation enabled the Institute to construct their main building and student housing.

Listen to the September 28, 2004 news conference.
(You will need the Real Player to listen to this. You can download the free version of their player here)

Read the September 28, 2004 release (pdf)

Fact Sheet: Community Investing and Family Farms (pdf)
For more information, contact Todd Larsen at (202) 872-5310 or [email protected].