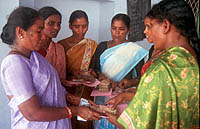 Oikocredit is the largest private provider of microcredit in the world. One of the microfinance institutions it lends to, SHARE helped this group of women in Andhra Pradesh become successful entrepreneurs.

Listen to the Feb. 1, 2005 Press Conference
(You will need the Real Player to listen to this. You can download the free version of their player here)

Read the Feb. 1, 2005 Press Release (pdf)



Fact Sheet: Microlending Organization's that are Making a Difference (pdf)
For more information, contact Todd Larsen at (202) 872-5310 or [email protected].