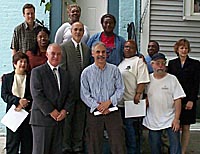 The Albany Community Land Trust (www.albanyclt.org) has received financing and technical assistance from the Capital District Community Loan Fund (www.cdclf.org) to help provide affordable access to housing for low-income and disadvantage people in the Albany, NY area..

Listen to the May. 17, 2005 Press Conference
(You will need the Real Player to listen to this. You can download the free version of their player here)

Read the May. 17, 2005 Press Release (pdf)
For more information, contact Todd Larsen at (202) 872-5310 or [email protected].